Used by +15,000 powerful teams worldwide
Strategic before-meeting setup
Ditch the chaos of last-minute planning and disorganized agendas
Connect your calendar(s) to one platform to avoid appointment conflict. Send personalized meeting invitations. Invite guests to collaborate on meeting content and be assigned tasks. Use built-in booking pages. Customize a meeting agenda template. Upload pre-read materials for participants to review beforehand. All from one place.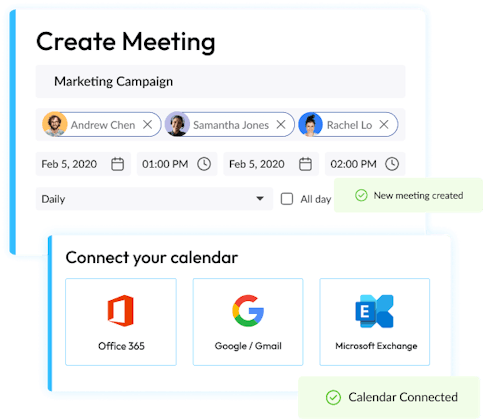 Immersive during-meeting experience
Video calls that complement the meeting content
Experience an immersive experience with our dual-view feature, where video and meeting content are displayed side by side, allowing you to focus and achieve your meeting goals. Use adam.ai built-in video conferencing tool that can easily substitute other video conferencing tools with paid plans.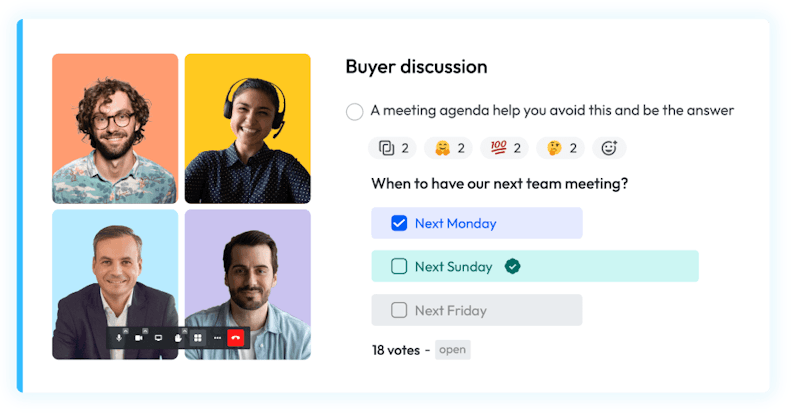 Meeting content powerhouse
Elevate your meetings with organized knowledge and engaging conversations
Use a smart note-taking system that turns what you write into agenda items, - polls, decisions, and actions with just a slash command. Liven up the conversation with emoji reactions, comments, and mentions. Have all written discussions and interactions saved. Manage your meeting knowledge in a way that drives business success and fosters collaboration with personalized dashboards and insights.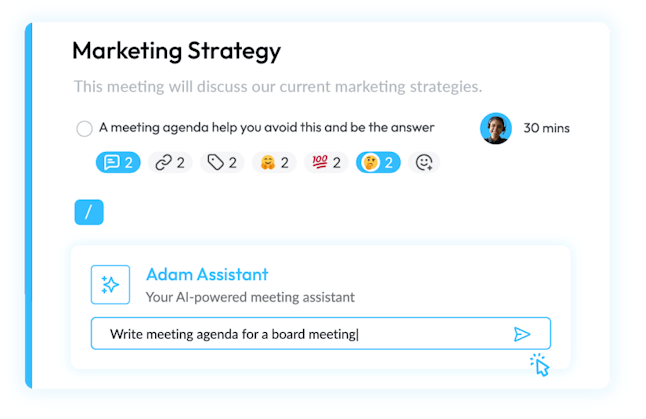 Powerful action tracker
Keep track of assigned tasks and decisions
Streamline the follow-up of meeting outcomes with a dedicated actions page that provides a comprehensive overview and management of actions across all meetings. Integrate with your existing PM tools to keep track of actions in one place without disrupting your workflow.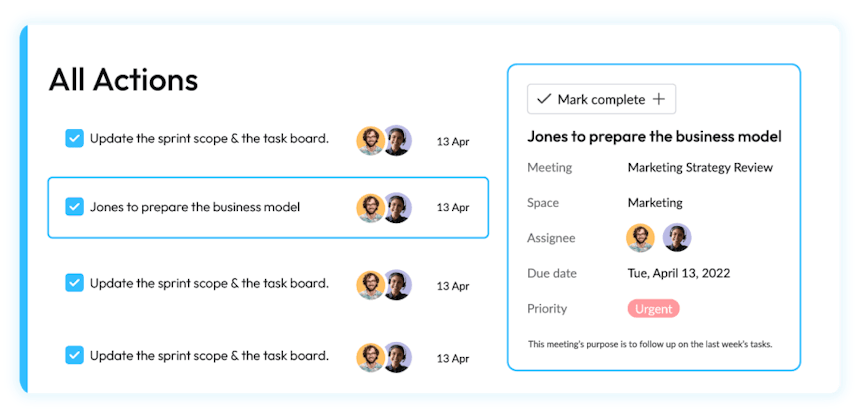 Why manually?
Meet Adam the AI Assistant
Instantly get meeting transcript, smartly highlight key content items, and quickly convert them into actionable items. Generate meeting summary in the form of a ready-made template, with key content items like actions, decisions, or else, and get solid meeting outcomes every single time.
Powerful integrations
Maximize the benefits of the tools you already use and explore new ones
Create an unstoppable collaboration hub by connecting your existing collaboration, project management, and CRM tools to your meeting space, enabling teamwork that maximizes results. Explore our marketplace which displays a range of tools that streamline processes, boost productivity, and supercharge your business success.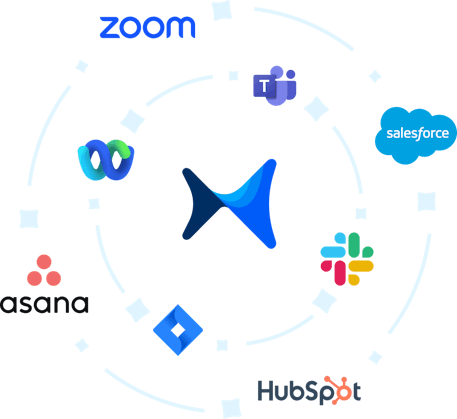 Jonathan Liang
Success Programs Manager at Cisco
"

Decisions & actions Items from various meetings are organized by project and are arranged with timelines so they become me aningful and easier to track, instead of random pieces in a large pool of notes. I have also received appraisals from the well-formatted PDF meeting notes.

"